Bricout & Koch becomes temporarily Bricout SA from 1987 to 1998, CA Kupferberg gives way successively to Clement Muller, and Pierre Gruas, then comes back from 1994 to 1998.
Charles Koch is no longer the luxury cuvee, but the Elegance 1985 vintage sold 500,000 bottles, Bricout feasts are given with show business people , the Avize castle is illuminated daily. This is not necessarily taste Financial Group Racke which owns Bricout , but Clement Muller is fired from the fact that he has created another company to his name in parallel activities, and secondly for a commercial mistake: infringement of the mark ' Elegance 'contested by a cooperative in Champagne.
Elegance is replaced by Arthur Bricout vintage 1985 & 1990.
The problem is that Arthur Bricout has never made champagne , has nothing to do with Avize, and has not established the Champagne Bricout. 1The date of filing for the Arthur Bricout trademark and the labels on the advertisement below is 1876. Installed in Epernay as a trader, he probably sold champagne Bricout between 1870 and 1876 when his bankruptcy fraud. It was not until 1966 that one of his descendants moved to Avize and created the House of Champagne Arthur Bricout & Co.
The leaders of Bricout then invent a Champagne story completely fanciful to make credible their mark, claiming the foundation of a champagne Bricout in Avize that never existed , appropriating the same time, the founding date of Champagne Charles Koch: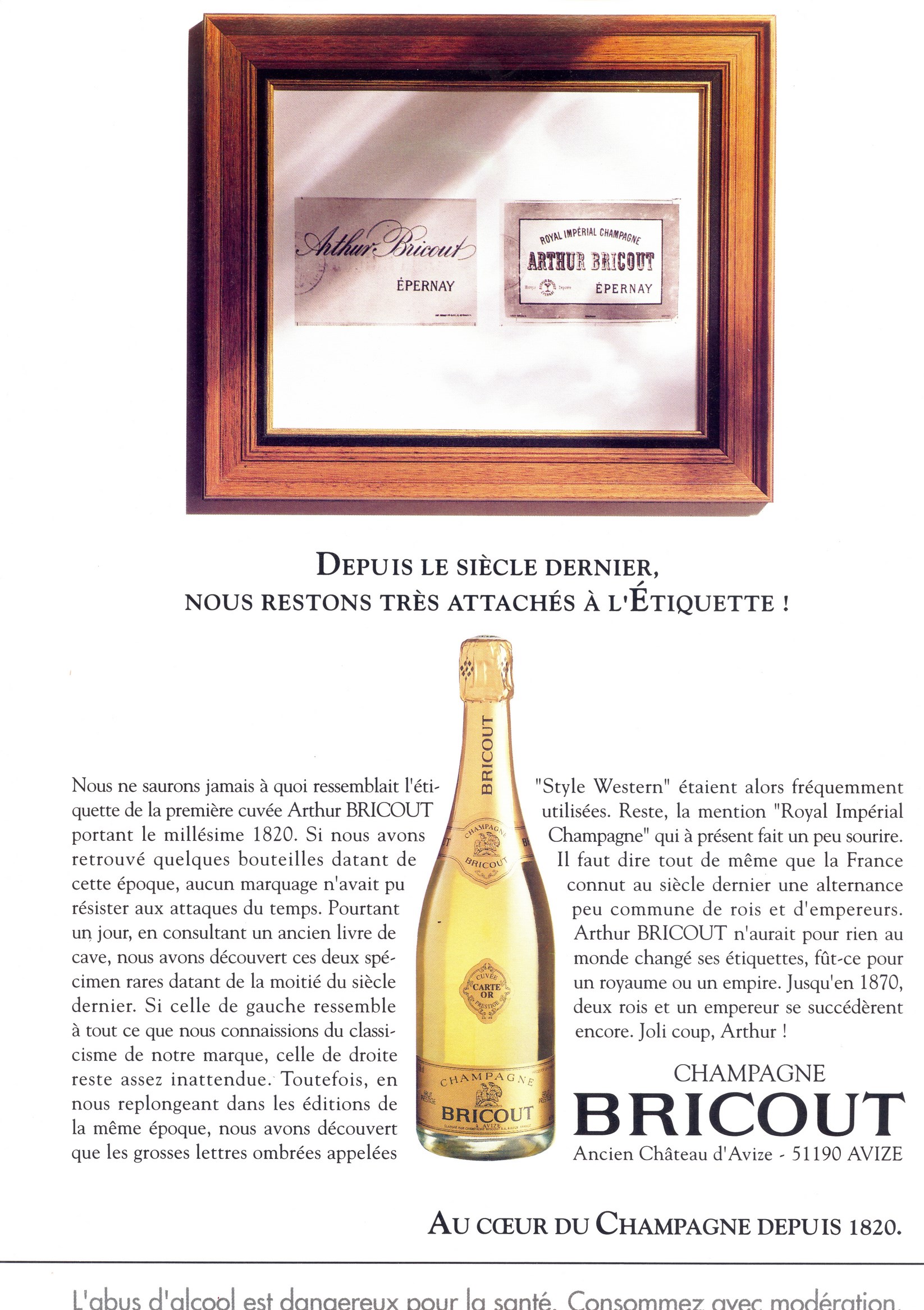 Everything was written on the back labels of bottles as well as sales brochures, and then repeated by the sellers and some champagne "historians" .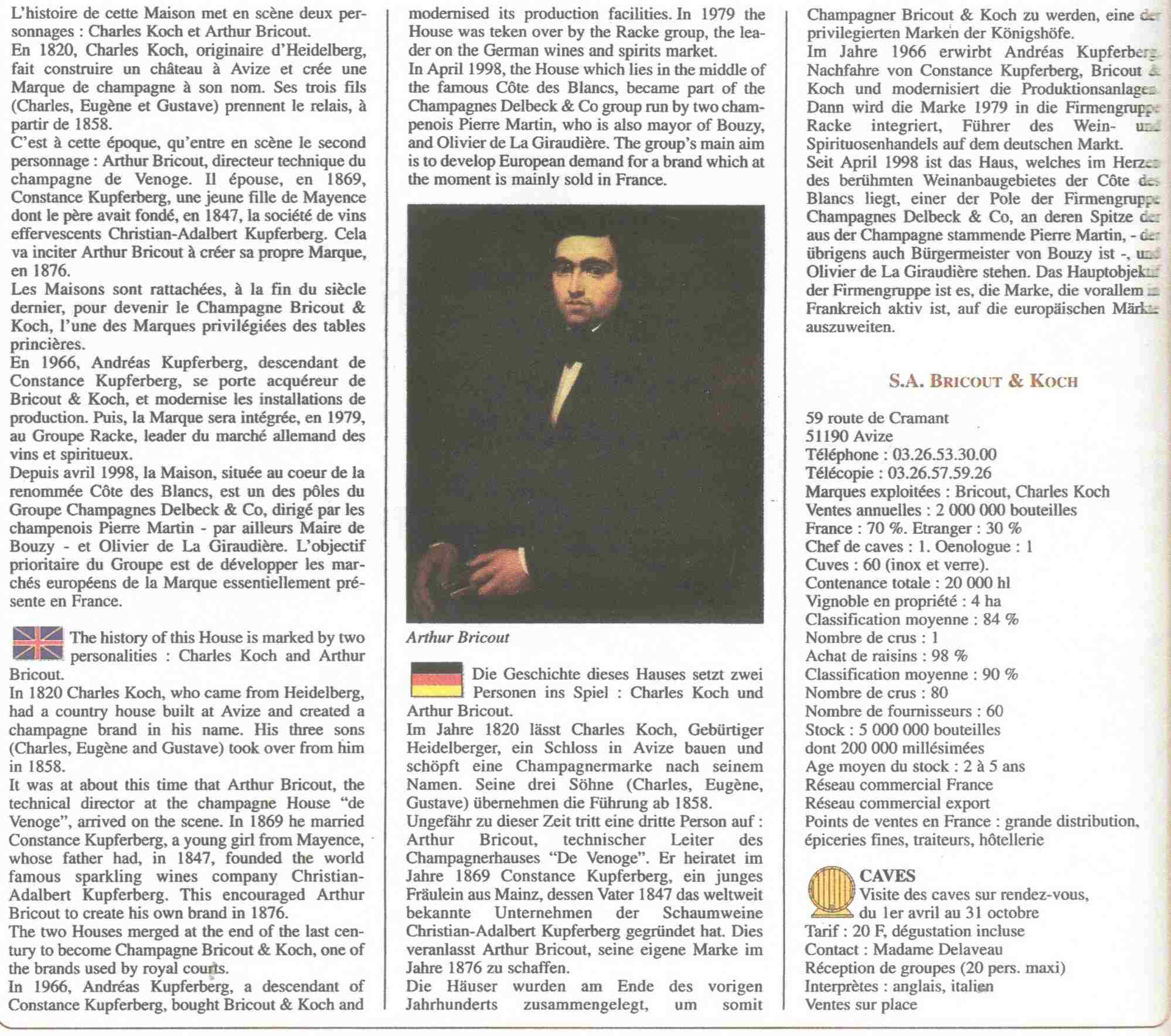 Champagne Bricout was not founded in 1820, despite what is still marked on the Bricout bottles sold by Vranken (Arthur Bricout was born in 1840 and his name was used as a mark only from 1966),
not concerned by history and champagne tradition, unique to each brand .
From 1993, Racke is in full debate on the future of its champagne house of 155 millions francs of sales (2.8 millions bottles and nearly 3 years of inventory) which suffers the brunt of the crisis which shakes the profession for 3 years. Result: a debt of 150 millions and 42 millions loss in 1992. « They will be less strong in '93 », says Pierre Gruas who sees no recovery yet . Following this, he abandons Bricout for management of Champagne Jacquart which then sells 10 million bottles.
CA Kupferberg resumes DG Bricout to restart Bricout & Koch, brand Charles Koch and some very ambitious plans for festive bottles of the year 2000, uniting again Bricout and Koch on the same vintage. The group Racke guillotine eventually falls : despite the boss Harro Moller-Racke, 73, passed the torch in 1992 to his son Marcus, who clearly displays a « European strategy », the magnitude of the crisis led Racke to throw in the towel.